JAMES ISHERWOOD B.OST.
Registered Osteopath, Dry Needling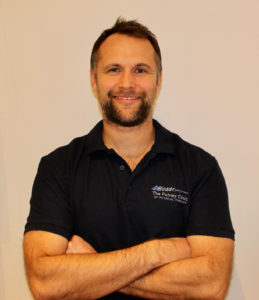 James Isherwood is a Registered Osteopath at The Putney Clinic of Physical Therapy. He qualified from the British School of Osteopathy (now the University College of Osteopathy) in 2004 and has been a member of the General Osteopathic Council since. After graduating and working as a locum in Aberdeen, he left the UK for six months of travel before returning to begin his career as an Osteopath in London. The past 15 years have seen him working in both private and NHS clinics in Earlsfield and Battersea before joining the team in Putney in 2008.
​The focus of his clinical work is helping patients suffering from both acute and long-term pain and stiffness. In particular, Jamie specialises in spinal injuries, shoulder and knee pain. In addition to clinical work, he runs workshops for GPs on assessment and management of knee, shoulder and spine injuries.
​Beyond general practice, Jamie lives an active life having been sporty from a young age. He played county cricket until the age of 17 and continued to play rugby for a side in Battersea into his early thirties. Over the last few years, he has taken up Brazilian Ju-Jitsu in his spare time which helps him maintain a reasonable degree of mental and physical agility.
​In addition to his Osteopathic work, Jamie has studied and trained to teach Pilates. He decided to gain a better understanding of Pilates in his late twenties after suffering from a prolapsed disc in his low back. The debilitating injury challenged his perception of managing injuries and he now incorporates Pilates specific exercises into his management of injuries.
SPECIALITIES
James Isherwood's particular areas of expertise are: Back, Neck, Shoulder, Knee
CONTACT JAMES ISHERWOOD
If you would like to make an appointment with James Isherwood, you can:
James can also be contacted directly on jamie@putneyclinic.co.uk
JAMES' AVAILABILITY AT THE PUTNEY CLINIC
| | AM | PM |
| --- | --- | --- |
| Monday | | |
| Tuesday | | |
| Wednesday | ✔️ | ✔️ |
| Thursday | | |
| Friday | | |
| Saturday | ✔️ | |