Hip pain can be caused by a variety of factors, including:
– An injury that does not heal properly
– A chronic illness
– Normal wear and tear from years of constant use
– Severe arthritic conditions, especially osteoarthritis
– Injuries as a result of trauma, such as a hip fracture or dislocation caused by a fall
Do you struggle to walk far, or find that if you sit for too long, or try to squat down or bend over, you experience pain in your hip/s? Maybe it's progressed further than that, and you rely on a walking aid to move around?
Possibly you've tried some treatments already, like physical therapy, but if the bone damage is too advanced, the treatments tend to have little or no effect. Pain can be very debilitating (and depressing) especially when coming from the hip, as your hip is involved in nearly all the movements you make.
Total hip replacement (or hip arthroplasty) may be something you have already discussed with a health care professional. It is a technique that has become widespread in recent years in response to the need for improving hip joints that have been damaged by injury or arthritis.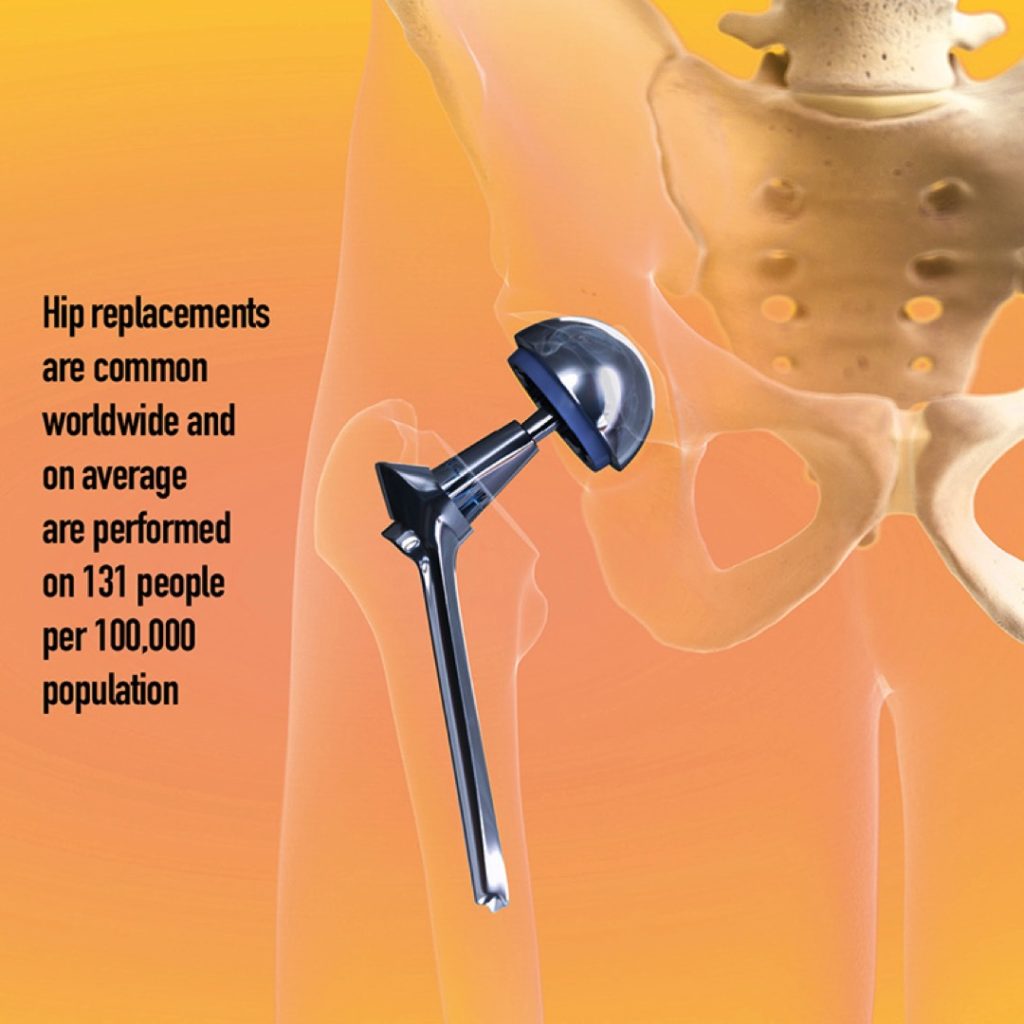 Joint replacement surgery may offer the best treatment option for long-term improvement for the hip joint, when other treatments have proven inadequate. In a majority of cases, having a total hip replacement reduces joint pain and means a return to pain-free movement, and generally the sooner you have the surgery, the better the outcome.
Why have a hip replacement?
Surgery is a good option for people whose pain is causing disability, impacting on their ability to work, do chores, or play sport – essentially impacting on quality of life. Relief from pain is the greatest benefit and the major reason for surgery. The procedure, followed by rehabilitation, will also improve movement, strength and coordination of your body and leg. You will be able to walk, climb stairs and maintain an active lifestyle in much greater comfort as well as be able to return to activities you enjoy – possibly swimming, cycling, tennis or golf.
There may be a number of reasons why you would delay surgery, but it has been shown that the longer the hip pain is present and the weaker your leg muscles become, the harder and slower your recovery is. So, acting quickly, and staying as active as you can before surgery will be hugely beneficial to your outcomes.
To find out more, do check out the Putney Clinic's Physiotherapy Services, contact us on 020 8789 3881 or by email at info@putneyclinic.co.uk to discuss your needs and find out how we can be of help.