We are heading towards the Rugby World Cup so focusing some attention on rugby: a fast-moving, high-intensity team sport. It's played by both men and women at all levels and the benefits of participation are many, ranging not only from a wide variety of fitness and health benefits, but also social and wellbeing benefits.
However, as a sport, it also boasts a high injury rate, with as many as 1 in 4 players being injured during a rugby season. The injury rates of rugby are three times higher than those of football.
On average a player will perform 20-40 tackles per match and as 60% of all injuries are to the tackler, this puts a lot of people out of action during the rugby season.
The two age groups that experience the most injuries are the 10-18 age year group and the 24-34 year ago group. In the younger age group, this is probably down to differences in developmental stages, some mature early, while others take a little longer to catch up. In the older age group, it could be down to the intensity of training and match play, although there's no hard, fast evidence for this.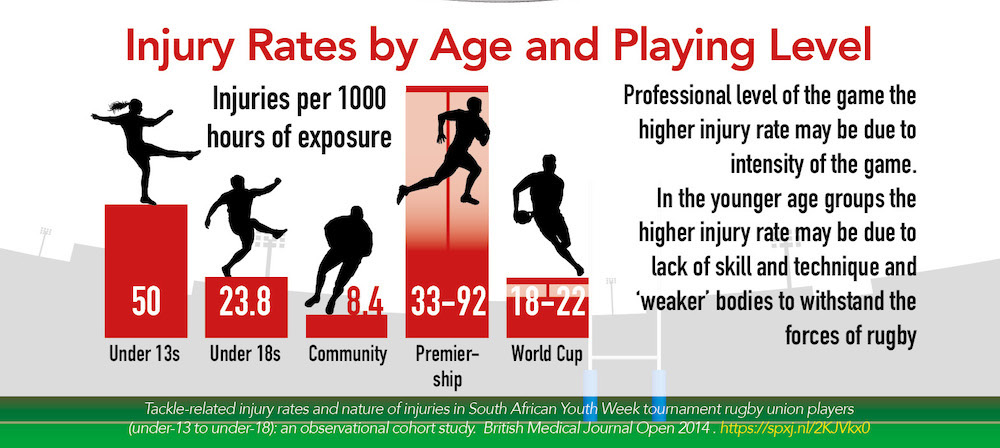 The highest number of injuries are muscle strains and muscle bruises, also known as contusions, which account for more than 40% of injuries. They are closely followed by sprains to ligaments, which account for 30% of injuries, and then by dislocations, fractures, lacerations and overuse injuries.
If you would like to find out more about treatment for sports injuries such as rugby our sports injury clinic may well be able to help.