Finally the Tour de France is almost here! The most important race in the cycling calendar is just around the corner. This means hours and hours spent in front of the TV or following live tweets and coverage. And lest not forget the endless attempts at replicating the professional riders' performances at Broomfield Hill in Richmond Park. Here Team GB Triathlete Nick Busca tells us what he does to wind down after long cycling events.
PREPARING FOR LONG CYCLING EVENTS
In order to be race-ready for the Tour, both on the days spent watching the competition as well as our Strava Warrior attempts to beat our own records, we need to make sure we have nailed some long-endurance rides ahead of the big event.
HAUTE ROUTE STELVIO
In the first weekend of June I took part in the Haute Route Stelvio. This is a stage race for amateurs held in Bormio, Lombardy, which is just a few hours' drive north from Milan. The Haute Route series is a successful and brutal series of cycling events which can last three to seven days. In my case, the Haute Route Stelvio was a three-day event. The profile of the race is daunting, with an overall elevation gain of 8,649 metres over just 226 km. As I was not satisfied enough at the end of the weekend, the day after the Haute Route, I rode an extra 110km with an additional 3,914 metres of climbing.
With a total of 12,563 metres climbed in four days, it transpires that I had actually climbed the equivalent of Mount Everest (8,848m), plus almost four times the height of Snowdon on top of that. As you can imagine, I was pretty happy and satisfied with this, but I was also broken into pieces. By the end, my quads and leg muscles felt like a pair of tree trunks.
POST-RACE RECOVERY & REST
As soon as I started running again (because resting was not really an option with the Triathlon World Championships looming in July), I started to develop an annoying inflammation on the outside of my right knee. For this reason, I decided to book a couple of massages with Toby at The Putney Clinic, although I knew those would not actually be "nice and relaxing". Indeed, it was quite the opposite… Those sessions with him turned into pure agony. Toby is known for having hands that look and feel like maple branches. While he was starting to release the tightness deep inside my quads, I probably suffered more than climbing all those mountains in Italy.
At the same time, the Osteopathy sessions with Adrian were somewhat more enjoyable, and he agreed with me that Toby's hands are made of iron. (Massages with Toby can be very gentle and relaxing as well, we're just teasing him).
INJURIES AND REHABILITATION
However, when you don't switch the "grinder" off when your body asks you to, there will always be unfortunate consequences. So, even now as I write this (4th of July and 10 days ahead of the World Championships), I still haven't solved all of the issues in my knee, which, as Adrian suggested, has probably turned into bursitis.
As I decided to stop running and cycling for a couple of days, I was able to swim almost 20 km in two weeks instead. This is the same distance that separates Putney from Shepperton, a famous open-water location in south-west London. Until the big day, I will rest my legs and keep my fingers crossed!
THE DALLAGLIO CYCLE SLAM 2018
There is another monster cycling challenge that needs a mention, which has also resulted in couple of body aches here and there. In the first weeks of June, Clive Lathey (founder and director of The Putney Clinic of Physical Therapy), successfully completed the Dallaglio Cycle Slam 2018, a huge cycling journey that started in the French town of Evian on Lake Geneva (yes, that Evian) and ended in Split, Croatia.
Clive cycled from Lake Como all the way to Split, cycling a total of 1,258 km. Yes, let me write it again: 1,258 km! That is quite a long ride, but it was worth it as the group has raised a total of £1.2 million for the charity so far. The money raised will help young people excluded from education to return to study and do sport as part of the Dallaglio Foundation's RugbyWorks programme.
RECOVERING FROM A LONG CYCLING EVENT
As with any self-respecting big ride, even the Dallaglio Cycle Slam left some marks on Clive's muscles. He has suffered from both neck pain and numbness in his hands. Once again, that was nothing that the robust hands of Toby and his "deep tissue massages" (and osteopathy treatment with Tim) could not fix.
As Clive himself admitted at the end of his challenge: "I have also done quite a lot of stretching and light cycling, but no hills!" The decision not to ride any hills was definitely a good one. However, as we have the Broomfield Hill Challenge waiting for us at the end of each alpine stage of the Tour, another good idea would be to get a bike fit.
That said, even if you have done a bike fit, grinding the big gear on steep hills during long bike rides will always take a pretty hefty toll on your body. I have learnt this from experience.
APPOINTMENTS
Have you recently taken part in a long cycling event and picked up a niggling injury? Or perhaps you are in preparation for a cycling event and need a check up to rule out any preexisting injuries? If so, why not make an appointment with our team of Osteopaths, Physiotherapists, Massage Therapists or Sports Injury Physician? Appointments can be booked online or by calling us on 020 8789 3881.
ABOUT NICK BUSCA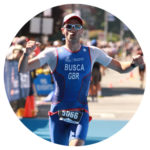 Nick Busca is a freelance journalist based in London, focusing on sports (particularly cycling, triathlons and skiing), travel and foreign affairs. His work has been published in a variety of publications, including The Guardian, BBC Travel and CNN , and other sport themed websites. Nick is also a Level 2 Triathlon Coach and has been regularly competing in triathlons since 2012 and has represented Team GB. In addition to this, he is a ski instructor.